For this interview, Supplement Judge is very lucky and privileged to speak to Ronnie Coleman Signature Series' sponsored athlete Tana Ashlee Cogan. In this interview we will gain an insight into what it takes to become an athlete competing at the highest standard!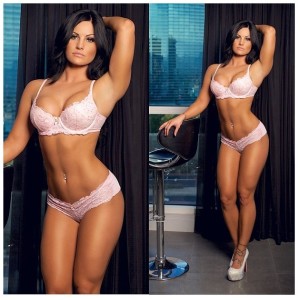 1. Could you tell us a bit about yourself and your background?
Well I'm 22, I live in Vegas. I have horses & a pitbull. I have been training for almost 10 years. My mom use to drag me to the gym & force me to work out I hated her for it but now I'm thankful, one amazing addiction you can create for ur kid. I've grown up in Vegas, have only been to about 3 nightclubs, I'm not into drinking or staying up late. I love being around my family, hiking, playing with the horses or training.
2. How long have you been training for?
10 years
3. How did you get started in training?
My mom made me haha
4. Who got you motivated to start training?
My mom hahaha now I look up to Michelle Lewin, sweetheart with abs & booty.
5. What are your short and long term fitness goals?
As of now make it through school & eventually own a gym.
6. What workout routine has worked best for you?
I lift weights 5 days a week & do light cardio almost everyday. I don't like days off because I get bored.
7. What is your favourite form of cardio for cutting bodyfat?
Intervals on the stairs.
8. Could you outline your basic daily diet?
Oatmeal, ISO-tropic shake, apple, turkey, rice, chicken, rice cake, asparagus, green juice & usually ice cream
9. Do you use supplements? If so, what do you recommend?
I use beta stim, stacked, amino tone & resurrect pm.
10. Do you have post/pre-workout meals? What's your favourite?
I work out first thing in the morning so usually oats & eggs.
11. How do you deal with cravings for junk food, sweets and salty foods?
Either drink amino-tone, eat pb or get crazy & just go get what my body wants.
12. Do you have any cheat meals?
Yeah a lot… Hahaha
13. What is your biggest motivation to get you back in the gym?
Building a bigger butt
14. If you could go back in time, what would you change in your training?
I wish I would have started lifting heavy weight a long time ago.
15. Any advice for beginners or anyone looking to get back into fitness?
Don't do stupid crash diets, keep it balanced & healthy, get good supplements & a good trainer.
16. Anything else you'd like to add?
I love food…. Hahaha jk but thanks for interviewing me
You can follow Tana through twitter @tanaashlee