It gives great pleasure to be able to interview Albe Geldenhuys, founder and CEO of USN International.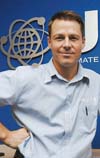 Could you tell us a bit about yourself and your background?
After school I joined the National Police Force for 6 years, worked in a specialist unit as facial  for expert for 4 yrs. Toured the world for 2yrs then joined a Health club as sales executive until 1999. Officially started USN in January 2000.
How long have you been training for?
Since age 16
How did you get started in training?
A gym close to my house
Who got you motivated to start training?
A friend who joined the gym 6 months before
What are your short and long term fitness goals?
To stay healthy, keep my weight below 82kg's and body-fat below 10%
What workout routine has worked best for you?
I do light weights, high reps, 3 times per week, run 12km 2-3 times per week mostly with wrist weights and a 10kg weighted jacket…and I do mountain-biking, so mostly a good mix
What is your favorite form of cardio for cutting bodyfat?
Fast walking on a treadmill at 12% incline with wrist weights and a 10kg weighted jacket.
Could you outline your basic daily diet?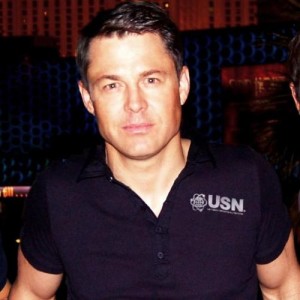 5h30 a cup of coffee and glass of lukewarm water with lemon juice, train for an hour, breakfast= eggs+salmon+salad, midmorning Protein RTD, lunch=tuna salad, mid-afternoon=protein bar or protein RTD, dinner=2x chicken breasts+ veggies
Do you use supplements? If so, what do you recommend?
Use to make a mix of Pycnogenol, Peak ATP, CQ10, Vinitrox, Vinburnine and Bioperine that I had after coffee before exercise…but just launched as product called Vascu-Fit.  I use Xedra-Cut Stimulant Free (called Phedra-Cut SF in SA), CLA, Protein 50RTD, Protein Delite bars(30g protein), R-ALA (R-Alpha-Lipoic-Acid), glutamine for general health. For cycling I use Epic-Pro and Cyto-Power HP with VO2-Max tablets and Cramp Block phosphate loader.
Do you have post/pre-workout meals? What's your favourite?
Not really, since I'm not looking at building muscle or gaining weight I stick to a recovery drink like our Protein Fuel 50 RTD
How do you deal with cravings for junk food, sweets and salty foods?
I make sure I consume enough good fats, EFA's and I use Cramp Block to replenish phosphate levels to prevent cravings for fatty foods
Do you have any cheat meals?
I cheat by having more of the cleaner foods and good wine
What is your biggest motivation to get you back in the gym?
I have a 60m2 gym on the bottom floor of my house so it's easy enough to go to gym
If you could go back in time, what would you change in your training?
I will plan my training better, get enough rest and be more patient with results, recover well and eat well, most definitely more good fats
Any advice for beginners or anyone looking to get back into fitness?
Understand what you want to achieve, be very sure that your planned goal is really what you want, know that it doesn't come without discipline and doesn't matter what you're told or want to believe, there are no quick fixes. Supplements will help you achieve your optimal physical goal faster but you will have to do the basics right and put in the effort.
Anything else you'd like to add?
Being in good shape is a way of life, it's not about committing to a diet or training plan for a period of time, it's a culture.
Again, a HUGE thank you goes out to Albe Geldenhuys, founder and CEO of USN International..