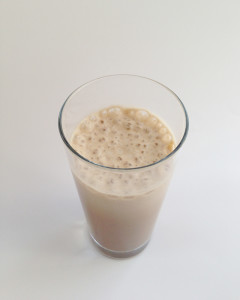 If like me you have hectic mornings and struggle to find the time to prepare breakfast then I think this might be the thing for you. Normally, for breakfast I would have a bowl of porridge (oatmeal), a protein shake, a banana and a cup of coffee. But when it's 06:30 and you're already running late, preparing all of that takes up some valuable time.
So I have come up with this recipe which I have been using for quite some time.
Breakfast Shake
2013-10-06 09:06:43
Serves 1
The perfect breakfast shake!
Nutrition Facts
Amount Per Serving
* Percent Daily Values are based on a 2,000 calorie diet. Your Daily Values may be higher or lower depending on your calorie needs.
Ingredients
Normal protein serving (1 scoop) preferably chocolate based
50g of porridge (Can be ground if you prefer a finer taste)
2 table spoons of sugar
2 teaspoon of coffee
200ml of semi-skimmed milk
Instructions
Boil 50ml of water and add to the 2 teaspoons of coffee to make a small strong coffee and leave it in the mug for the time being
Add 200ml of milk to the shaker
Mix the protein serving with the milk
Add the coffee shot into the shaker and mix for some more
Mix the sugar and the oats together before adding to the shaker as well
Mix thoroughly for about 2 mins
Drink up!
Supplement Judge http://www.supplementjudge.net/