MyProtein Hurricane XS Review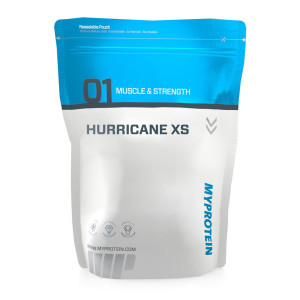 My Review
I used MyProtein's Hurricane XS 2.5kg bag for nearly 7 weeks which goes to show how long it lasts. I was taking 2 scoops per day in the morning with breakfast. During this period, I noticed that my weight was increasing steadily reaching my highest ever weight of 90kg as well as breaking several personal best lifts and having the aspired for lean gains transformation. It is worth noting that this was done in combination with an increased calorie intake and frequent heavy compound lifting.

This is Myprotein's all-in-one product containing a wide array of ingredients such as: whey protein, dextrose, creatine, HMB, carbohydrate blend, glutamine and oat which is very well priced.

MyProtein's Hurricane XS dissolved right away when mixed with 300ml of cold water leaving no lumps, clumps or a powdery after-taste. The taste was acceptable, I didn't like the fact that the taste of the dextrose aspect stood out.

Overall, MyProtein Hurricane XS is a great product to aid anyone looking to get bigger, stronger or generally an all-in-one supplement.
Serving Info
Serving Info
Per 100g:
Energy: 1209kJ
Energy: 286.3kcal
Protein (as-is): 38.1g
Carbohydrates: 24.9g
Fat: 2.8g

Also provides per 100g:
BCAA: 5g
Creapure®: 5g
Glutamine Peptides: 5g
Beta Alanine: 2g
L Leucine: 2g
AAKG: 1.5g
Glycine: 0.7g
L Histidine: 0.3g
Ingredients
Ingredients
Protein Blend (Whey Protein Concentrate*, Whey Protein Isolate*, Casein Hydrolysate (Peptopro®)*, Milk Protein Concentrate*), Carbohydrate Blend (Dextrose, Ground Oats, Amylopectin Barley Starch (Vitargo®)), Branched Chain Amino Acids (BCAA), Creatine Monohydrate (Creapure®), Wheat Protein, Glutamine Peptides, Cocoa Powder (chocolate flavours only), Beta Alanine, L Leucine, Flavouring (flavoured options only), coloring (Beetroot Red [strawberry flavour only]), Emulsifier (Soy Lecithin), Sweetener (Sucralose®), AAKG, L Glycine, L Histidine. *From Milk