Cellucor C4 Pre-Workout Review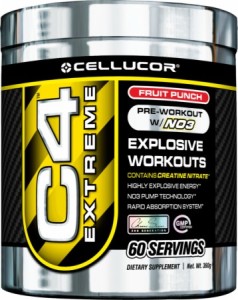 [badlist]

Low Serving per container
Low on caffeine per serving
Really bad crash after the gym session

[/badlist]


My Review
Been running this for 2 days heres my thoughts. (BTW ive used MANY MANY pre workout drinks all the major ones and more)
Cost £23.95 from Cardiff sports nutrition free delivery next day it came no problems there .

Intitial thoughts
The tub is tiny and when you open it its still only half full . Theres only 162g in it .
A serving is 5.4g and it contains 30 servings BUT as im very stim tolerant I had the maximum 2 servings so only works out 15 ! (BTW Jack3d works out 15 servings for me to at 3 scoops)

Taste
I have the orange tasts lovely probably the best tasting Pre W/O ive had .
10/10 Ive never given a 10 before with any Pre w/o

Mixability
Excellent nothing left in the bottom after just shaking ina screw toped cup.
10/10 has to be a 10 it just mixed totally.

Initial Performance
Its pretty low on caffine 100m per serving.Definetly got the beta alanine Tingle which i enjoy made my head itch but got a good initial buzz from this .

Performance
I felt good in the gym I didnt feel like tearing up the gym but I felt focused and full of energy .
Day 1 Did a full back and bis workout fot 1.5 hours then rested and did 30 mins on the treadmill running 4k felt like I couldve gone on

Day 2 Did full shoulders and Tris workout and then again did 4k in 30 mins on the treadmill

8/10 for energy - felt good.

Theres no PBs broken I didnt feel stronger or feel like doing more reps I just felt good. No pump to speak of only from lifting after a while which is usual it wasnt from the C4.
Pump
3/10 - no major difference to pump or vascularity

Crash - well I dont always like talking about crashing aftre the gym because this can happen anyway if your tearing up the gym you cant always put it down to the Pre W/O but I do feel VERY heavy eyed on the 2 days ive used it . I still feel physically fine though just mentally tired. is the the C4 I honestly cant say.

Value
for me personally not good as only 15 servings 4/10 but if 1 scoop is all you need and i can imagine 1 may suit a lot of people then iits a 8/10 with 30 servings.

Overall Thoughts
Its good I like it but this has been hyped up a LOT on the US forums. The energy its very good and I felt focused and switched on for me its better than Jack3d which is the catergory id put it with.
Its a sustained energy and a feel good energy so if you want something togive you a kick with not as much caffine as others this would do the trick but dont count on it for pump.
Serving Info
Serving Info
30 Servings
Serving Size:1Scoop(6.5g)
Servings Per Container:30
Calories 5
Total Carbohydrates 1g
Sugars 1g
Vitamin C 250mg
Calcium 1mg
Folate 250mcg
Vitamin B12 34mcg
Beta Alanine 1500mg
Creatine Nitrate 1000mg
Arginine AKG 1000mg
Explosive Energy Blend 594mg
Vitamin C (As Ascorbic Acid), Caffeine Anhydrous (100 Mg), N-Acetyl-L-Tyrosine, Mucuna Pruriens (95% L-Dopa), Xanthinol Nicotinate, 1,3-Dimethylamylamine HCl, Rauwolscine, Folate (As Folic Acid), Pyridoxine Phosphate, Vitamin B12 (As Methylcobalamin)
Ingredients
Ingredients
Natural And Artificial Flavors, Citric Acid, Silicon Dioxide, Beet Juice (Color), Sucralose, Beta Carotene, Acesulfame Potassium (Ace-K)
Reviewed by: Mitchell Bailey
.