AllMax Nutrition IsoFlex Review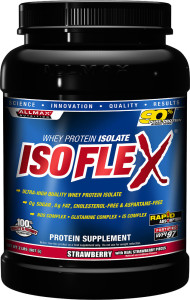 This is a follow up review of the sample initially previewed over here earlier in the year.
My Review
I used the 907g for nearly 3 weeks exclusively as a post-workout supplement during a cutting phase. My serving size was made up of two scoops which meant I was getting 54g of protein. During this time I was able to bring down my body fat percentage by roughly 1.5% whilst maintaining my body weight. This was achieved through the use of AllMax Nutrition's IsoFlex in combination with dietary changes and the use of a couple of other supplements which will be reviewed soon.

In terms of taste, I used the strawberry flavour which was absolutely delicious. What I really liked about it and is a totally original idea is the use of real strawberry pieces within the powder adding that extra authentic taste to the product. Two scoops would seamlessly mix with 300ml of water to give a creamy consistency; similar to that of a slightly weakened milkshake.

So overall, AllMax Nutrition's IsoFlex is a very effective whey protein to use during cutting if you're looking for a whey isolate. It's reasonably priced for a whey isolate, very effective and extremely delicious.
Serving Info
Serving Info
Serving Size: (1 Scoop) 30g

Servings Per Container:

75

Amount Per Serving

Daily Value *

Calories

115

Total Fat

0 g

0%

Saturated Fat

0 g

0%

Trans Fat

0 g

†

Cholesterol

0 mg

0%

Sodium

65 mg

3%

Potassium

220 mg

6%

Total Carbohydrate

1 g

0%

Dietary Fiber

0 g

0%

Sugars

0 g

†

Protein

27 g

54%

Vitamin A

0%

Vitamin C

0%

Calcium

13%

Iron

3%
Ingredients
Ingredients
WHEY PROTEIN ISOLATE COMPLEX [ISOFLEX PROTEIN BLEND (100% Instantized Ultra-Pure, Cross-Flow Microfiltered WPI90 90% Whey Protein Isolate, Hydrolyzed Wpi97 97% Whey Protein Isolate, Alpha-Lactolbumin-RIch Whey Peptides), Nos-Complex™ (L-Arginine, Taurine), Glutamine Complex (L-Glutamine), IS COMPLEX (Alpha Lipoic Acid, D-Pinitol, 4-Hydroxyisoleucine].