Sci-MX Nutrition Shred-X Rippedcore Review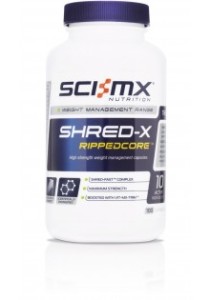 My Review
I used Sci-MX Nutrition's Shred-X Rippedcore for roughly one month time. I was taking it during a maintenance phase but also veering towards reducing my body fat percentage. I was taking 4 capsules per day as two serves of two capsules. The first was in the morning with breakfast and the second was after my workout session. On none-training day, I would take the same out but have it spread over the day.

I used it in combination with a CLA supplement. My bodyweight stayed constant at 85kg; however, my body fat percentage dropped by around 1.5-2% whilst maintaining my same diet and training routine. The effect was most noticeable in my physique becoming leaner which isn't reflected by my constant weight.

As a capsule, it is odourless, tasteless and easy to swallow. Sci-MX Nutrition's Shred-X Rippedcore is a relatively well priced fat burning which I found to work very well.

Overall, a great and effective product to add to your fat burning stack.
Serving Info
Serving Info
Nutritional information

Per Serving

(2 capsules)

Shred-Fast™ complex

2015mg

(of which bitter orange peel)

450mg

(of which guarana)

865mg

(of which green tea extract)

500mg

(of which cayenne pepper)

200mg

(of which chromium picolinate)

30ug (75%*)

Total caffeine

190mg

Vit-MX-Trim™

8.2mg

(of which niacin)

8.02mg (50%*)

(of which folic acid)

100ug (50%*)

(of which biotin)

25ug (50%*)

(of which iodine)

75ug (50%*)

Bioperine®

5mg

*EC RDA = Recommended Daily Allowance
Ingredients
Ingredients
Shred-Fast™ complex (guarana/paullinia cupana, green tea extract/camellia sinensis, bitter orange peel/citrus aurantium, cayenne pepper/capsicum annuum, chromium picolinate), Vit-MX-Trim™ (nicotinamide, D biotin, potassium iodate, pteroylmonoglutamic acid), gelatine (capsule), magnesium stearate (gelling agent), Bioperine® (black pepper extract), silicium dioxide (anti-caking agent). - See more at: http://www.sci-mx.co.uk/shop/shred-x-rippedcore#sthash.N3Tks3cG.dpuf